Dan Nicoară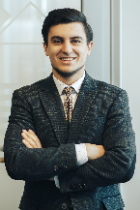 Work department
Banking and Finance, Mergers and Acquisitions, Information Communications Technology, Data Protection and Privacy, Energy, Competition and Arbitration.
Position
Associate.
Career
Having had prior experience in working for governmental and nongovernmental organizations, after joining the firm in 2016, Dan developed particular skills in banking and finance, information communications technology and data protection areas. He assisted and advised clients in disputes related enforcement of works, lease and other agreements, including agreements governed by FIDIC rules. Dan is appreciated in successfully teaming up with lawyers across various jurisdictions while helping to provide solutions on the Moldovan law issues. Recent highlights include assisting foreign clients in international commercial and investments arbitration. Dan also advised private equity firms and multilateral development banks on cross-border acquisitions, including on aspects of structuring, drafting and negotiating transaction documents.

Languages
Romanian, English, Russian, German.
Education
LL.M. (Moldova State University, 2018), LL.B. (Moldova State Univesity, 2016; Univesity of Turku, Finland, 2015).
Hobbies
Table tennis, football, jogging.
---
---